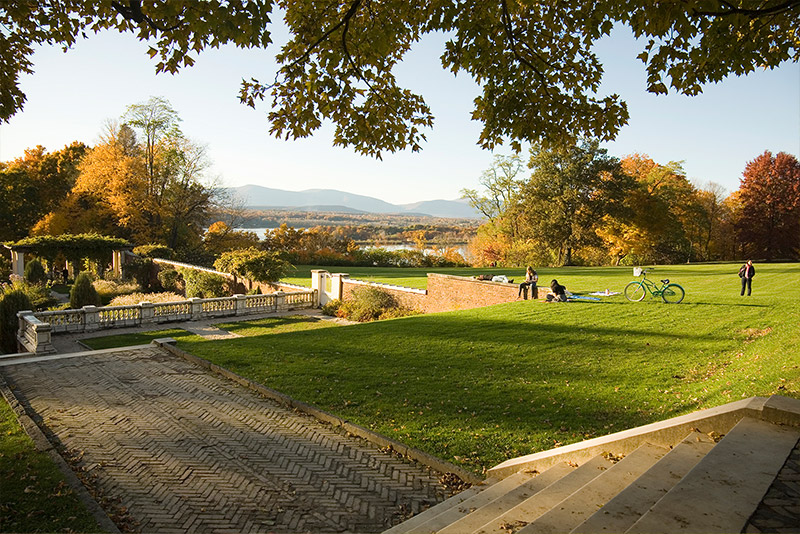 About the Hudson Valley
The Hudson Valley extends 150 miles above the tip of Manhattan. Designated as a National Heritage Area, the valley is steeped in history, natural beauty, culture and a burgeoning food and farmer's market scene. Among many attributes, it's the oldest wine producing area in the country, and the magnificent scenery inspired artists whose works became the Hudson River School of Painters. Bard's Annandale campus is a center from which students explore the rich natural and cultural life of the Hudson Valley, and also have easy access by car or train to New York City, about 90 miles to the south.
Weather
Summer: You will be arriving at the end of the summer but you should expect hot and humid weather to continue through August and into September. Temperatures range from 50 to 90 degrees F (10 to 33 C). You will be most comfortable in loose light casual clothing. Be prepared for the many opportunities for outdoor activity.
Fall: September, October, and early November are often cool and can be windy and rainy. Temperatures range from 45 to 70 F (8 to 22 C).
Winter: Late November through March can be cold and occasionally very cold, from 40 to -10 F (5 to -20 C). There is often snow. To stay warm, it is best to wear several layers of clothing rather than one heavy sweater. We also recommend you get warm boots that are waterproof, and a warm winter jacket. You will be able to purchase both from reasonably priced stores after you arrive.
Spring: The Spring weather can be quite wet and cool, with hints of summer.